One of the players who competed in FSL Elite earlier this year, Michelle "Mits" Liwanag, has been selected to coach the Philippines National team for this year's SEA Games. Congratulations!
We managed to get an interview with her before the season. Read on to find out more about her journey:
Q: Hi Michelle! Thanks for agreeing to do this interview with FSL. Could you tell us more about yourself?
A: Hello thank you for the opportunity! My in-game name is Michelle and also a Coach of Bren Esports. You can follow me on Facebook https://www.facebook.com/mitsliwanag 🙂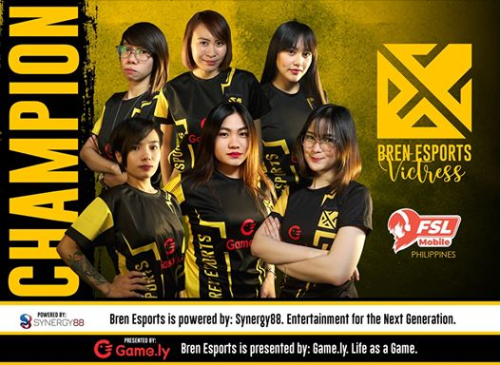 Q: How did you get into esports?
A: Before getting into esports, I was a Client Director from a Ticketing Company in Australia. I could work everywhere on my laptop, so during the downtime at work I get bored very easily. I tried to find some games on my App Store then I found Mobile Legends and I really got addicted to it.
Q: Could you tell us about your journey with FSL in Bren Esports?
A: Originally I wasn't a player on Bren Esports, I was their coach haha. One of my main players, Persian, had to do a surgery and our 6th player had a family emergency as well. We had no time to find another player so my members requested me to play with them. It was really hard at first to get back in the game since I stopped playing full-time for 2 seasons. But still! We managed to win FSL Philippines, flew to Singapore to compete in FSL Elite and got 3rd place!
Q: How did FSL help you in your Esports journey?
A: It was a dream come true 🙂 I used to always be at the back of the stage watching my male team play, thinking how it would feel like to be up there. Competing in FSL helped me to improve my gameplay and become more connected with my teammates.
Q: How did you get chosen to coach your national team?
A: I used to be the Team Captain of the original No Limit Team, which consisted of Jaypee (Sunsparks), Jieo (Geekfam PH), Meow, Marky (previously from Arkangel), Chico (STI), Renzio (Sunsparks). I am usually the one who analyzed their games before on MPL since season 1 and I was also the manager of Digital Devils Demon Kings with Tictac (Coach who is now the Manager of Liyab LoL team), we helped each other coaching the team. From there, the manager of Bren Esports, Jeff Victoriano, asked me if wanted to try coaching the Bren Esports Team. I hesitated at first since coaches for Esports Teams are usually male and I don't know of any female coaches. But I would like to thank them for their trust in me and also to Boss Jab Escutin for giving their 101% support.
Q: Do you have any advice for aspiring female pro players? (Females who want to become pro players)
A: Follow your passion, having a big dream is the key to success. You have to learn as you play and treat it seriously. Sexism and harassment are only part of the industry, you have to learn to deal with it. If you are skilled, they're going to accuse you for hacking the game or that someone using my own account to play. Ignore the stereotypes, do what you want, we want to see more women in the gaming industry!
Q: Are there any female figures who you look up to?
A: My mom! 💕 She's a single mom
Q: Could you give us a short paragraph to encourage female gamers or female pro players?
A: Esports scene might be a daunting entering a male-dominated scene but see this as an opportunity and we are a valuable part of this industry too 🙂
Thank you FSL for bringing us females out and giving them a competitive space 🙂 I WOULD LIKE TO ENCOURAGE ALL FEMALE PLAYERS OUT THERE TO SHARE WHAT THEY DO AND LOVE – GAMING. FOR WOMEN WHO WANT TO JOIN THE ESPORTS INDUSTRY, STAND YOUR GROUND, BE CONFIDENT, PUT YOURSELF OUT THERE AND I HOPE TO SEE MORE WOMEN ASPIRING TO SUCCEED IN ESPORTS <3
FSL wishes Mitch Liwanag and the Philippines team all the best for the SEA games!